Ania Jaworska: BRICKS
Saturday, Jun 5 – Jul 31, 2021
1709 W. Chicago Ave.
Chicago, IL 60622
Volume Gallery is pleased to present BRICKS, the second solo exhibition of new work by Chicago-based architect and designer Ania Jaworska. Opening June 5th, 2021, BRICKS engages this elemental unit of construction formally and conceptually to create a homage that is at once sincere, humorous, pragmatic, and seductive.
Bricks are both resolutely material and culturally potent. Especially in Chicago, they aggregate to form a backdrop to urban life, and not always elegantly or intentionally. At the same time, bricks provoke an earnestness, even reverence, among architects (Louis Kahn most famously) and lay brick enthusiasts (there are many among us, analyzing the techniques and sources of the brickwork in our neighborhoods). As metaphors, bricks appear in diverse contexts, negative and positive: a basketball that clanks off the rim; a ton of something dropped on us; a mighty-mighty woman; the road we follow to Oz.
Bricks are solid, substantial, but often a veneer: real ones front other structural systems, and Home Depot sells fake surfaces that resemble them. They are legible as a simple 2D pattern of red rectangles divided by white lines, but their true (or approximated) texture is familiar and appealing, too—enough so that we might choose to leave them exposed inside our homes. BRICKS explores the brick's ability to translate across appearances that are analog or digital, real or imaginary, tasteful or vulgar, oversimplified or overexaggerated, willfully entering the psychological realm behind these many expressions.
Like bricks, the pieces in the series—a table lamp, a bench, a coffee table, a wall cabinet, a credenza, and a corner light, in addition to a curtain and a decorative brick—conflate utility and excess. The furniture is practical, without fuss; proportions are all determined by the same singular module, and each piece serves a distinct purpose. But the one-to-one-scale graphic treatments of their unique, furniture-grade laminate surfaces blur reality and representation in an exuberant, cinematic way. The series plays with depth and weight, evading easy readings but easily prompting new associations. Secret drawers and sound effects add to their unexpected behaviors.
At nearly seven feet tall, the corner lamp appears as an almost urban-scale element. On its inside face, two mirrors frame a "brick" column topped by a globular light, extending the lamp's surroundings. The exterior of the lamp structure is wood framing, a reference to the systems that support and are supported by brick. The curtain also cultivates a relationship to wall assemblies, becoming a surprising presence in a window seen from outside; on the interior, it mimics the stereotypical backdrop of a stand-up set. The coffee table's pattern recalls the decay and maintenance of brickwork, incorporating Z-cracks, tuckpointing, misalignments, and a mix of colors. Together, the furniture interrogates a material—and its associated cultural meanings—so omnipresent and unassuming that we thought we no longer had to think about it.
The project graphics were produced in collaboration with the artist Beverly Fre$h. Matt Junn provided design assistance.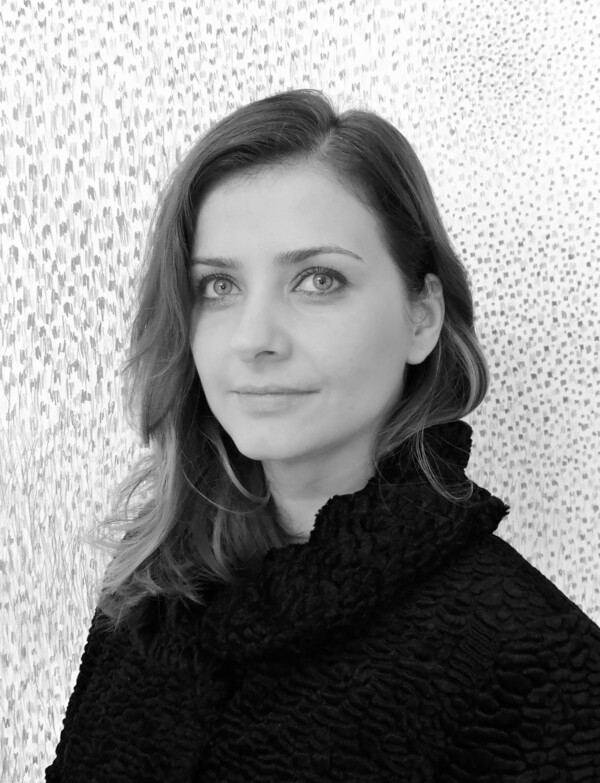 Ania Jaworska is an architect and educator. She currently is a visiting assistant Professor at the University of Illinois at Chicago, School of Architecture. She holds a master's degree in architecture from the Cracow University of Technology in Poland as well as the Cranbrook Academy of Art in Michigan. Her practice focuses on exploring the connection between art and architecture, and her work explores bold simple forms, humor, and commentary as well as conceptual, historic, and cultural references.
Jaworska's work was exhibited in numerous exhibitions, notably, at the 13th and 17th Venice Biennale, Chicago Architecture Biennial 2015, Chicago Cultural Center, Chicago Architecture Foundation, and Storefront for Art and Architecture. In 2015 she had a solo exhibition titled BMO Harris Bank Chicago Works: Ania Jaworska at the Museum of Contemporary Art Chicago and SET at Volume Gallery in Chicago. She designed a bookstore for the Graham Foundation and was a 2017 MoMA PS1 Young Architects Program Finalist. Her work is in the permanent collection of SFMOMA.