Tanya Aguiñiga: Extraño
Friday, Nov 6 – Dec 23, 2020
1709 W. Chicago Ave.
Chicago, IL 60622
Volume Gallery is pleased to announce Extraño a solo exhibition featuring new work by Tanya Aguiñiga. Opening on November 6, 2020, the show will feature a collection of abstract sculptures and wall hangings.
Aguiñiga assembled this collection of objects around the word extraño's two meanings. Through a moment of collapse, the word's meanings include the experience of missing (to miss) and the adjective of strange. These meanings are entangled with the artist's reflection of the current everyday resulting in a combination of raw cotton and flax combined with ice-dyed technicolor weavings. 
Extraño marks Tanya Aguiñiga fourth solo exhibition at Volume Gallery. Her previous shows at the gallery, Reindigenizing the Self (2017), Mothering the Form (2015), and Driftless Zone (2013), contained works that explored themes of skin tones, home, travel, and care. Interconnected with her previous exhibitions, the Extraño objects were made in the company of grief, gratitude, rage, exhaustion, and worry the artist has experienced recently in response to the constant threats our BIPOC community faces and the diverse affects and losses of the pandemic.
Aguiñiga's past artworks, likewise, heavily engage with ideas of community and travel. As a collaborative and performative artist, Aguiñiga creates a collection of objects while facing the losses of community laughter and the inability to travel small corners of the continent. For Extraño the artist shifts her practice to independently make objects of relief. 
Using materials of the earth, of strange beauty, Aguiñiga aims for moments of joy and inspiration, to provide relief to the 'ashes of what was'. Connected with the artist's material heritage these pieces implement raw cotton, ice dying, and flax - creating sculptural forms to enter into worlds of absurdity. 
Extraño is open through December 23rd.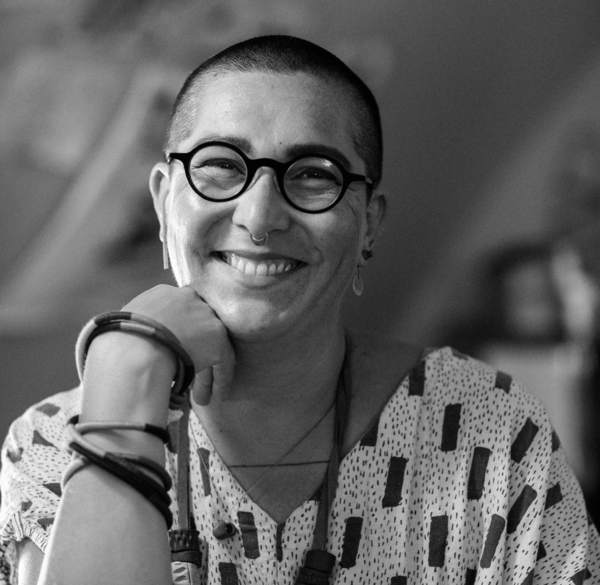 Based in Los Angeles, Tanya Aguiñiga identifies as an artist, designer, and craft person. Her practice involves public works, performances, sculptures, and furniture. She is also the founder of AMBOS (Art Made Between Opposite Sides) an ongoing series of artist interventions and commuter collaborations that address bi-national transition and identity in the US/ Mexico border regions. Aguiñiga holds a BA from San Diego State University and an MFA in furniture design from Rhode Island School of Design. Her work is included in the collections of various museums around the country including Museum of Arts and Design (MAD) in New York, Los Angeles County Museum of Art (LACMA), and the Museum of Fine Arts in Houston.